Coming from a CFO background I can imagine how difficult it is to wade through the claims and counter claims of the different enterprise performance management (EPM) application vendors. Profit& has nailed its colours to the Anaplan mast because Anaplan platform Enterprise Performance Management (EPM) is very different. Let me explain why, based on 20 years or so of implementing EPM solutions in Microsoft spreadsheets, Oracle, SAP, Board, Cognos, and now Anaplan.

Fully integrated components

Until Anaplan technology a typical EPM solution was made up of multiple components. Here are two examples.

1. EPM for Passenger Airlines

Over the last 10 or so years I have implemented several passenger airline, flight route profitability systems. These required: a "datamart" to be developed based on a data model and standard data definitions; the datamart to be populated with hierarchies (route, fare classes, cabin classes, aircraft, date of operation, etc.) and flight transaction data including kilometres flown, tonnes of fuel, and passengers, all requiring a level of transformation into the common data model, using an Extract Transform and Load (ETL) tool; data to be then transferred into a calculation/allocation application; the results to be sent back to the datamart to make them available to an enterprise wide reporting tool. For the budget process an additional budgeting tool was used, mainly to allow remote data entry of local expense budgets. In this solution I count 5 different applications, all needing systems integration and significant, highly skilled consultants to execute any change requests.


2. EPM in a Pharmaceutical Company

This client needed to be able to forecast sales by product (20,000) and customer site (2,000) up to 12 months ahead. Sites were typically covered by contracts with different renewal dates. The product group controllers spent 2-3 weeks per month manipulating forecasting spreadsheets to deliver a forecast based on historic trends. These were then reviewed with Sales managers to overwrite the extrapolated historic trend forecast, and the resulting forecasts then went through levels of local, regional and group approval. At the time we replaced this with three integrated components: a calculation tool to handle the volumes and level of detail beyond the capability of spreadsheets, a datamart to receive the results; and a BI tool used for sales management review and analysis. Three components to integrate, but it lacked workflow to control the process.


How would Anaplan handle these examples differently? Anaplan can fulfil all these requirements in a single integrated application: data is loaded into an Anaplan Datahub model; within Anaplan views are created on which calculations are run and the results are available for Anaplan Dashboards. Anaplan has integrated data loading and workflow capability, but it is not an ETL tool of course. That said, there is no need for data transfers within Anaplan and many business requirements can be fulfilled perfectly well using Anaplan's integrated data load functionality. Where ETL is required, for instance high volumes, needing transformation, and frequent updates, industry standard ETL applications (e.g. Informatica) provide "connectors" to simplify ETL from common sources to Anaplan.

Flexibility v complexity

Applications from most of the large, traditional vendors have been built to handle complexity and have evolved over many years. There is little doubt they can be configured to handle the most complex requirements, and airline Flight Route Profitability is one of the most complicated I have experienced! Leaving aside the issue dealt with above, the need to integrate multiple applications to fulfil a complex business requirement, they are certainly not flexible. You will all too often need to "bend" your requirements to the application, not forgetting the cost of the skilled resource needed to configure these applications. The beauty of Anaplan is that, because is it such a flexible modelling tool, and because all the components of EPM are integrated into one application, it can handle the complexity at least as well as traditional tools. Anaplan is rare in being a very flexible modelling tool that can handle complexity.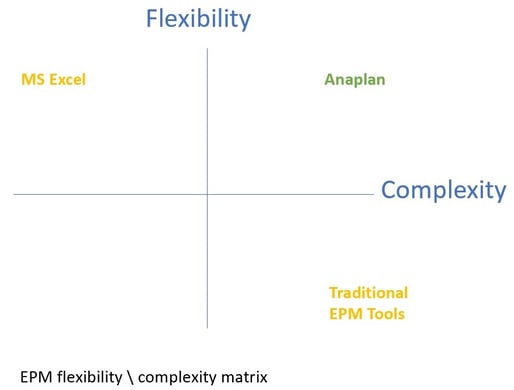 Anaplan is always "there"
I was interviewing a candidate for a senior consultant role in Profit& last week and asked him why he had decided to abandon Cognos consultancy in favour of Anaplan. What did he like about Anaplan? He said, "because it is always there". What did he mean by this?
Anaplan has advanced, in memory calculation technology. If you make a data change it re-calculates dependant results. For most models this appears to end users as instantaneous; the worst I have experienced is near "real time", say a few minutes. Compare this to the overnight batch processes required in my two examples above.
Being software as a service and "in the cloud", new functionality is released by Anaplan regularly (normally in short outages on a Saturday). Clients always use the latest version. There is no need for expensive upgrades, regression testing, and surprises when the upgrade doesn't work with other components.
Even in this automated world some data needs to be keyed in (I call this Manual Data Entry – MDE). Typically, this data is new factors/weightings, and local manager overrides to budgets or forecasts. Traditionally MDE requires a separate EPM component. In Anaplan, we just build a Dashboard and make it available to the users and watch the results be updated immediately.
Conclusion
Like most accountants I am genetically built as a sceptic. It takes a lot to drag me away from my beloved spreadsheets and other traditional applications. Like most sceptics, however, once converted, I have become an ardent proponent of Anaplan. I have yet to find a client EPM requirement it cannot fulfil. I just wish it had existed during my 20 years as a CFO. Contact me and let me convert you too!
To learn more see our article 'Become a thinking business with Connected Planning'.