Business planning is the process used to predict the future. Businesses in every sector are now finally progressing from static, cycle-driven, labour-intensive and cumbersome planning exercises. At last, newer methods are being commonly adopted, making them more dynamic, collaborative and - most importantly - intelligent.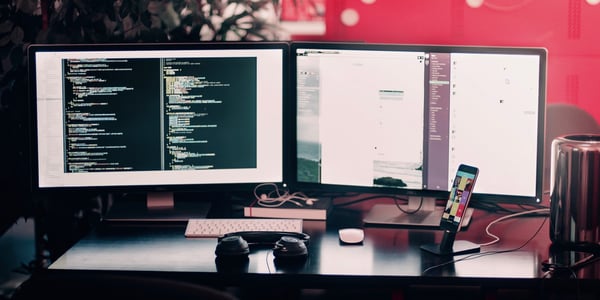 Although steering businesses is still based on numbers, plans, budgets and assumptions, applying artificial intelligence to develop more advanced analytics for planning means that businesses are finally on the cusp of a major transformation in the way they operate.
In this blog, we'll outline how artificial intelligence can be applied to planning, its benefits and how it relates to Connected Planning.
What is AI and Advanced Analytics?
Artificial Intelligence (AI) is a computer or machine's ability to acquire and apply knowledge, not just data. While AI is still a broad term which covers a variety of topics, here are some of the areas where AI collects knowledge and applies it.
Language Processing: Voice-activated tools like Siri and Alexa can recognise speech and turn audio sounds into information they can acquire and use. For example, AI can learn to adapt to accents and mispronounced words to follow instructions, such as playing music or turning on the lights.
Digital Vision: AI can also acquire information from digital images through tools like DeepFace and even self-driving cars. For example, Facebook's DeepFace can recognise which area of an image is a human face and is capable of identifying it based on a database of faces.
Machine Learning (ML): ML is when a computer or device acquires and interprets knowledge from a vast amount of data to improve processes - with or without the aid of humans. It uses information to get faster, smarter and more accurate over time, based on mathematical applications and statistics.
How AI and Advanced Analytics Affect Planning
When it comes to business planning abilities, ML and AI are changing the landscape forever. Rather than basing this year's forecast solely on sales from the previous year, you can finally have a plan that takes projections for significant events into account.
This can include anything like local and social events such as festival seasons, sports competitions and business events. It can also include other changes such as regulatory, changes along the supply chain, seasonal demands, unpredictable weather changes, trends, potential staffing issues and much more.
The tool acquires the relevant information and manages to apply it by itself. This leaves you free to review the results and formulate intelligent responses to keep your business ahead of the competition. With an array of options prepared for you, you can finally stop spending your time compiling and verifying data.
With the status of your business continuously updated, accurate and available on your nearest screen, you and your team can finally do the work you really want to.
What We Can Learn from AI and Advanced Analytics
When you combine AI with traditional analytics, it delivers advanced analytics. This isn't just applying past data to predict the future, as traditional analytics does, but building in future events. With traditional analytics, businesses receive a review of its historical data where they get a report on past results.
Advanced analytics uses AI, and other techniques such as predictive forecasting, to look ahead. So, while traditional analytics ask, 'what happened?', advanced analytics ask 'what's possible?' But what can we really learn from AI-based advanced analytics?
In business planning, AI offers a range of technologies. These include speech recognition, as we mentioned above, cognitive computing, natural language processing and much more. These technologies mimic human thought processes, analyse, pull insights from vast amounts of data and learn how to do tasks better at speed and scale.
Although AI and ML recognise patterns that lead to certain outcomes and make intelligent choices, it still doesn't mean that self-aware and self-learning machines operate as entities in their own right. Instead, these systems can assist your decision-making capabilities or at least automate repetitive tasks and complete them at a much faster rate and with a higher degree of accuracy.
How AI and Advanced Analytics Improve Planning
Instead of undertaking the excruciating task of making a plan that does or doesn't foresee everything, you can choose the most desirable result from a wide variety of options that are prepared for you using the criteria you select. Here are some examples of how AI and advanced analytics improve planning.
Planning cycles disappear when both actuals and forecasts can be produced continuously in real-time.
Businesses benefit from improved accuracy and guidance. This improves investor confidence and reduces uncertainty.
Real-time analytics results in quicker time-to-action and the ability to deliver insights and visuals.
AI identifies influential business data, drivers and makes predictions based on past events as well as future events without any manual intervention.
AI improves business and investment decision-making which is powered by smart AI-driven scenario analysis.
Reallocation of finance resources from insight delivery and analysis activities to decision support or business partner roles.
AI offers self-service capabilities because of the growing expectations for responsiveness and quality from business partners.
Planning never stops and is running behind the scenes at all times. With ML continuously crunching data, it makes accurate and specific forecast predictions all the time.
Planning is done automatically and you have a choice of doing it autonomously or not.
The models are fluid and continuously updated as new information comes in.
AI, ML and advanced analytics find connections that humans might never think to link.
Provides a competitive edge by harnessing the power of information,
Frees up your team to do those uniquely human tasks, such as creative problem solving and bring in the human factor.
How AI Advanced Analytics Links with Connected Planning
Created by Anaplan, Connected Planning allows people, data and plans to interact directly so that you can better manage planning processes at each level. Here are some of the benefits of Connected Planning that you need to know.
Enables collaboration, insights and predictive, self-learning capabilities to inform strategic decision-making.
Use data to make more informed decisions.
Use predictive scenario analysis in real-time.
Cope with rapid change.
Make immediate adjustments.
And much more.
All of these tick the boxes for predictive analytics. Now, the icing on the cake is the introduction of AI. Frank Calderoni, CEO of Anaplan, explained in a conference that the goal of introducing AI is to reduce planning cycles and the time it takes to change those plans to as close to the point of action as possible.
Anaplan has introduced Machine Learning to Connected Planning through new partnerships with leading technology providers, such as TensorFlow. Anaplan has worked on proof-of-concept implementations where you can incorporate data into the planning process from any source.
You can then train this information to gain insight into organisational behaviours and make better predictions about the future. The Anaplan platform offers 26 predictive and statistical algorithms and also features an optimiser. This is a capability that suggests the best course of action in situations that involve hundreds or even thousands of different variables.
Connected Planning helps you get from point A to B. With AI, ML and advanced analytics, it means you can reach point B without getting delayed by roadblocks.
Download Your Guide to Connected Planning
Anaplan has created Connected Planning to make the process of shifting to consumer demands much easier. To help you make the transition, we've produced an all-in-one guide for everything you need to know about implementing Connected Planning in your organisation.
From its benefits and purposes to the tools you need, we've covered it all. Get your free copy using the link below.