If your sales and operations plans are disconnected, you risk inaccurate forecasting, lost sales opportunities, redundant stock levels and so many other issues caused by misalignment. This disconnect in planning processes has caused everyday problems that have yet to be resolved by existing systems. A cloud-based, more flexible modelling solution can help.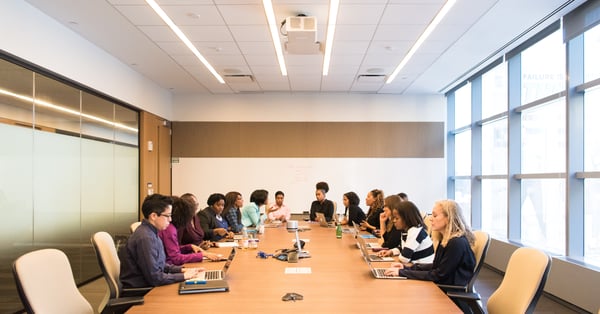 Here's a quick recap on connected S&OP, plus the four major benefits that it achieves and what steps to take to implement them:
A QUICK INTRODUCTION TO CONNECTED S&OP
The purpose of connected S&OP is to increase transparency, balance supply and demand as well as achieve profitability. However, this kind of planning only works when it's supported by software that gives you clear visibility across the process, manages large volumes of data and improves collaboration across departments.

Sales and operational planning is just about as complex as it gets, so a tool that can handle high volumes of data and model the required level of detail is needed. Software also needs to be flexible to enable you to adapt to change.
The benefits of connected S&OP
1. Increased transparency between departments
With increased transparency between departments and accurate forecasting, it ensures that stock levels are never too low or too high. Plus, the whole business has a common understanding of the lifecycle of a product and how it needs to be managed.

S&OP can ensure your teams always make informed decisions about a product's supply and demand. It'll provide greater accuracy and transparency across the business, making it easier to relay up-to-date information.
2. More informed decision making about a product's demand and supply
A major benefit of connected S&OP is having access to an accurate view of exactly what volumes are in inventory, production or in transit, at any point in time. With this information to hand, planners can quickly and easily make instant adjustments across the supply chain to meet changes in demand, or decide what to do about supply constraints.

Without this, you risk misalignment across departments, inaccurate estimates of consumer demand and wasted resources from having cash tied up in excessive stock that has expired or become obsolete. Or lost revenues from not having the right stock in the right place at the right time!

In contrast, a clear view of what is happening across the entire demand and supply chain puts you in control. You will always have the very latest data from across the entire process so that you can respond to change when you need to.
3. Better sales and budgeting forecasting
Thriving businesses usually have the right business tools, that allow them to adapt quickly to new markets and ever-changing consumer demand. Without flexible, collaborative S&OP, you risk competitors profiting while you miss out.

No matter what industry you are in, there's always another business ready to provide the same service to your customers and fill a gap in the market. This is why it's so crucial that simple business expectations are met by accurate forecasting.

Using Anaplan, Lodge Cast Iron gained visibility into their forecast and brought demand planning and production planning into alignment. This led to reduced cost and greater efficiency, So much so that they reported 100% ROI from the implementation of connected S&OP in just one year.

Connected S&OP gives you the ability to make more informed decisions about products, provide accurate data on product performance and better forecasting data. This way, you can remain flexible enough to adapt to ever-changing demand.

To illustrate the flexibility that can be achieved, a pioneering healthcare client uses e-commerce sales forecast data to drive top-down planning. Production planning tracks batches across a 16 step production process. They also run scenarios with a bill of materials, that calculates stock at each production stage, cost of goods sold, purchases, VAT, and trade creditors.
4. Streamlined processes that improve overall customer experience
Suppliers and customers will all benefit if you have real-time connected sales and operational planning. As deadlines are met and products are always available when and where they need to be, customer satisfaction will follow.

Implementing S&OP correctly can be part of a wider digital transformation in your business. Real-time, connected supply chain planning, will remove inefficiencies and transform your business.

Connecting sales and operations plans enables management to collaborate with a common understanding of the issues, giving them the ability to act quickly. This will undoubtedly improve customer experience.
SIX Steps Towards Successful Sales and Operations Planning
When deciding between possible S&OP software, you need to evaluate the available options to find a solution that works for you or risk getting left behind. The best business leaders create a planning process and culture that leads to one concise and transparent plan.
Get executives involved:

Engage all departments including leaders in finance, HR, marketing, materials, operations, product management and sales. Get executives involved too and educate them about the benefits of connecting S&OP.



Promote cross-functional collaboration:

It's essential that planners work from a common data set, but have the right view of data to fulfil their particular role. Plans need to be connected so that changes in one area trigger exceptions in another that require attention and drive collaboration.



Eliminate the use of spreadsheets:

Spreadsheets are fantastic as a personal productivity tool, but they are not fit for purpose in the context of enterprise planning. Give all management access to the same cloud-based data - one version of the truth. This will create trust and more effective collaboration due to the reliability and cross-functional view of data.



Select the right software:

It's crucial that software is designed specifically for planning, is flexible and at the same time able to model the unparalleled complexities that exist across the process of S&OP.



Develop a technology roadmap:

Establish a roadmap that matches your S&OP journey and includes support and goals for both now and the future.



Execute:

If the plan doesn't translate into how to produce or sell a product, it's not usable. Set a clear plan to transform sales and operations planning to a more connected process.

Clarify business requirements, how a software vendor will be selected and create a plan to implement a solution.
Want to Know How to Choose the Best S&OP Software for Your Business?
To gain all the benefits of S&OP, you need to have the right software for your business. The wrong tools won't give you the required level of decision support, connected plans and many other benefits of successful S&OP.

However, it can be difficult to know where to start, especially as there are many S&OP software options. That's why we've created our helpful guide on how to choose the best one for your requirements. From the key features of the right software to evaluating your options.

Download the guide below.