The growing number of companies that have implemented Anaplan, including Barclaycard, Del Monte, and United Airlines, have benefited from greater collaboration in business planning processes across their organisations, increased insight thanks to shared intelligence, and the ability to adapt to fast-changing market conditions.
It's the perfect choice of business planning platform for you too, so you can stay focused on key business goals and make sure all of your decisions are supported by the right information.
Here are just some of the many benefits of Anaplan that your organisation will gain once you've made the switch.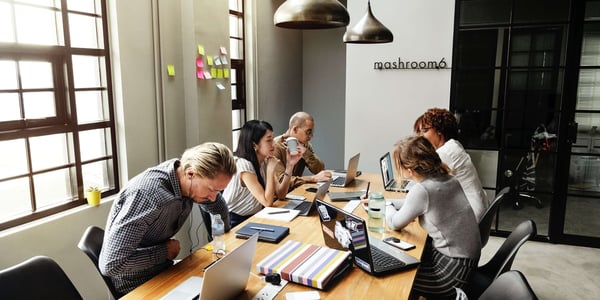 Benefits of Anaplan
1. Dynamic Planning
With Anaplan, planning as we have known it is finished. No longer will it be an annual process that's slow and ineffective. Previously, planning was inflexible, complex and lacked the ability to collaborate on change. This meant that companies were unable to adapt effectively to changing circumstances.
Dynamic planning is a collaborative process. Anaplan allows for widespread participation in planning across the organisation and encourages feedback. This means you have comprehensive information to continuously adapt plans as you sense changes in the market.
Because you can react to change much faster with Anaplan, you're able to drive transformational change that will have a very positive impact on business performance.
2. Intelligent Decision-Making
Choose Anaplan and make smarter decisions across the whole business. The platform provides you with all the information you need to make intelligent choices when you need it. There aren't any delays or awkward periods where you're waiting to receive data that supports your decision.
All possible choices can be considered before a course of action is decided upon, by running multiple 'what-if' scenarios. This allows you to consider the actual implications of different decisions and see how they're impacted by a range of variables.
Scenario planning isn't new, but the important difference is the speed at which it can be completed in Anaplan. Having run several scenarios, that previously took several days or longer to complete, management has the information they need to act within as little as a few hours.
3. Adapts Quickly
One of the most important benefits of Anaplan is how quickly it allows you to adapt to changes. You're able to consider all of the possible options before responding in real-time, giving both you and the whole organisation access to everything you need.
Plus, the user experience and mobile app allow for all of this to be done anywhere. Wherever you are, you can access the latest insights from Anaplan quickly and effectively.
Sonos is an example of an organisation that's drastically reduced the amount of time needed to respond to changes in demand. Before Anaplan and its switch to Connected Planning, it was taking them around two weeks. Following the transition, this time had fallen to a single day.
4. Stay Focused and On Target
Scenario-based planning is vital when you're making business decisions. "What-if" scenarios that are enabled with Anaplan allow you to assess what's possible. This ensures you stay focused and on target because you can adjust accordingly when presented with new information about the future, unexpected events, or weather patterns, for example.
All sorts of different market conditions need to be considered to ensure you stay on target with your goals. Take seasonal factors, for example. It's important to know how different unusual weather patterns or consumer trends will impact your business. The ability to run scenario calculations quickly and use the information to adjust fast keeps you in control.
5. Boost Shareholder Confidence
Bad data is a risk. It can lead to bad decisions and blur the big picture, causing costly mistakes to be made. Because Anaplan provides accurate, real-time data, this is no longer a risk that you have to worry about.
Shareholders, that previously had reservations about incorrect data or the length of time taken to respond, can rest easy knowing that Anaplan's platform mitigates these risks.
They'll also appreciate a change in the culture of your organisation. Once you've embraced Connected Planning and Anaplan, your teams are more collaborative and close-knit. There's more of a partnership feel that is visible at all levels of the business. This radiates outwards and makes the business more attractive to shareholders.
This is in stark contrast to the experience of Sports Direct following the acquisition of House of Fraser. Financial results were reported late and when they finally came, shareholders were left unable to see how a turnaround could happen.
6. Meet Regulatory Requirements
You'll already know how frustrating it can be to make sure that your organisation adheres to the seemingly never-ending series of capital and liquidity regulations.
When data used for planning and financial reporting is held in multiple disconnected systems, making changes to ensure compliance can be almost impossible. With Connected Planning on the Anaplan platform, all the relevant business data is held in one place and modelling is flexible and fully auditable.
Adjustments to remain compliant can be implemented quickly, and results have a full audit trail so that you can explain results when challenged by authorities. This is a genuine solution to this problem.
If you're ready to use Anaplan to drastically improve your existing decision-making process, then it's time to learn more about Connected Planning. Align your existing teams, create a culture of collaboration and make sure you're ahead of the competition.
Your Comprehensive Guide to Connected Planning
Be more adaptable so that you're able to quickly shift to deal with changing consumer needs. Connected Planning can make this process fast and easy. To get to grips with Anaplan and the wide-ranging benefits of Connected Planning, make sure to download our free guide. It'll give you all the information you need to implement the process across your organisation. Get your free copy of our guide to Connected Planning now by clicking on the link below.