Demand-driven supply chain (DDSC) planning is focused entirely on building supply chains in response to demand signals - driven by customer demand. The risk of not adopting this supply chain planning method is that usually, companies tend to overcompensate by either slowing down or speeding up their production levels..
In turn, this can cause inventory levels to fluctuate with the effect being both inefficient and costly for everyone involved.
For you to plan for both short and longer-term demand visibility, it's important that you determine if your systems and processes for planning and forecasting allow you to achieve continuity throughout your business. Here's more on what you need to know about DDSC planning.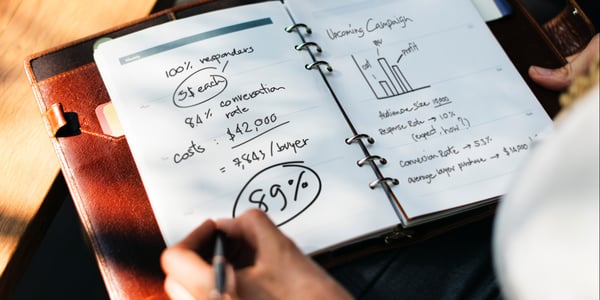 How Demand-Driven Supply Chain Planning Differs From Other Planning Methods
The customer's environment today is more dynamic than ever. Organisations across all sectors are hugely disrupted by factors like technology advancements driving dramatic changes in customer behaviour. The supply chain of yesterday was linear, sequential and static but now, those days are gone.
Now, it's dynamic, multi-directional and constantly changing. To reach their goals, it's vital that supply chain leaders make decisions at the speed of the market to avoid falling behind. So, in this rapidly shifting market, globally distributed planning teams can put a renewed focus on individual customer needs.
As we mentioned, the DDSC planning method is driven by customer demand. It uses the 'demand pull' technique. This gives the market opportunities to share more information and to collaborate more effectively with others in the supply chain.
The demand-driven market tends to have greater elasticity - compared to traditional supply chain methods. For example, the prices in a demand-driven market respond to any changes in demand whereas the opposite reacts to changes in supply.
So, demand-driven is demanded by the customers while traditional methods are primarily determined by suppliers. This is usually the case in economies where there isn't much choice or where there's a shortage.
All of the different departments within your organisation will benefit from the DDSC method, as it's dependent on aligning all entities across the supply chain supported by effective information flows and collaboration. As this technique can adapt to the ever-changing market conditions with real-time information, there's no delay in passing information across the supply chain as it can be shared more rapidly and frequently.
So, you can maintain or reduce inventory levels while also reducing the invasive issue of expedited orders.
The Benefits of Switching to This Method
An overall benefit of DDSC is that more than one entity can reap the benefits. Instead, the DDSC method has the potential to deliver benefits to all supply chain participants.
This includes raw-material suppliers, manufacturers, retailers and even end consumers. Some of the many benefits of adopting the DDSC approach within your organisation include:
Increased communication and collaboration within your organisation as everyone is using the same format.
A more efficient way for your organisation to meet customer, partner and investor needs.
You can achieve business continuity with a defined process like DDSC.
Achieve greater short and longer-term visibility.
The ability to respond quicker to in-demand changes. So, rather than spending two weeks on replanning, you can now do it in as little as two hours.
You can finally remove days from inventory.
You can decrease working capital.
Forecasting accuracy can be improved.
Transportation costs can be significantly reduced.
You can optimise your current infrastructure.
Order-expediting costs can be decreased.
Other operating costs can also be reduced, such as warehousing and handling.
A reduced headcount, such as planners and buyers.
There can be a decrease in sales planning and operations planning time.
Lost sales can be decreased.
For end consumers, you can use DDSC to improve customer sell-through and satisfaction.
Limit damage to the environment and your reputation by removing the need to destroy stock.
Despite the advances in technology and the plethora of benefits implementing DDSC within your organisation can bring, adopting this technique isn't a plug and play exercise.
The Most Effective Way to Adopt Demand-Driven Supply Chain Planning
For your organisation to succeed in a growing global market and achieve business process continuity, you need to look for practical ways to connect your supply chain planning from beginning to end. Here are five steps to follow to adopt DDSC in the most effective way.
1. Make the Move to Real-Time Supply Chain Planning
When using ERP systems and spreadsheets for planning, it's likely that you and other organisations similar to yours typically rely only on historical data. This reduces the flexibility to make any changes should any disruptions occur going forward.
Instead, working with a partner using a real-time connected supply chain management platform like Anaplan helps you to remove any guesswork with accurate what-if analysis.
With the Anaplan platform, you can finally take a holistic approach to supply chain management, enabling real-time visibility across the network. Anaplan creates the ability to sense and drive demand - facilitated by a dynamic, collaborative S&OP process.
Forecasts will improve, information walls are broken down, connections are built and achieving business goals finally becomes a rule rather than an exception. This allows you to plan more effectively so that you're ready should any disruptions occur.
2. Unify Your Supply Chain Planning With Enterprise Planning
The next step is to connect traditionally siloed supply chain planning to sales, operations and financial planning. Here, your organisation can benefit from synchronising your short-term operational planning with your wider business planning processes so that you can make real-time updates to inventory forecasts and supply.
Connecting planning processes enables business-wide collaboration. Meanwhile, the relevant bodies can quickly assess how resources can be used wisely to optimise profitability if any unforeseen events occur.
3. Anticipate Consumer Demands
An ongoing challenge many organisations face is anticipating what consumers want, when they want it and where they want it. Again, this is where it's beneficial to work with a partner using a platform like Anaplan to allow for end-to-end visibility across the supply chain. This is beneficial for the supply chain, so that you can sense demand signals from customers.
To help demand planners in your organisation plan faster, more accurately and on a more detailed level, predictive planning using statistical functions can be of assistance. This works by examining historical data and predicting future demand giving the planner a range of statistical methods to choose from.
By being able to rapidly identify changing consumer sentiments and how demand can adjust, it's a great benefit for your organisation. For example, it improves profitability, lead-time and margins.
4. Leverage Real-Time Data Across the Supply Chain
With so much involved throughout the supply chain, it's common to see models become large and difficult to decipher, primarily because spreadsheets are the main planning tools.
Incorporating a solution that manages high volumes of real-time data, however, gives you the freedom to plan with greater accuracy while reducing the risks of running out of stock or having too much inventory.
5. Check to See That You Are Flexible Enough to Cope With Change
Finally, when you have the technology - like the one we've highlighted above - that lets you plan efficiently and react quickly, disruptions aren't really disruptive. It's faster and easier to re-plan and re-forecast continuously.
There's a need in every organisation to adapt processes and roles to the new way of working. So, simply replacing technology is only part of the transformation.
To leverage the investment, organisation's often need to redesign the entire process to take full advantage of the new possibilities that a platform like Anaplan puts in front of you.
But the investment is well worth the effort, as the net result is saved time and money, as well as increased profitability and staying ahead of the competition.
By effectively making the change to DDSC planning, you'll be ready to collaborate across your entire organisation, adjust to market changes and reap the many benefits. To help make planning a success within your organisation, you'll benefit from viewing our cheatsheet full of useful strategies.
SEE HOW DEMAND PLANNING CAN BENEFIT YOUR ORGANISATION
To help your organisation identify and solve the problems that can arise in meeting consumer demand, download your free demand planning cheat sheet.
We've highlighted five key strategies for planning success, ranging from balancing your store inventory to aligning with the supply chain. For more expert insight on how you can succeed at merchandising, go ahead and click the link below.