Clearly defined goals and a detailed strategy will give you the best chance of having an effective sales planning process. Follow these steps to create a plan that gives you the vision you need to deal with the challenges you face and utilise your sales assets in the best possible way.
In this post we'll discuss the challenges you'll encounter when it comes to implementing an effective sales planning process and some best practices to incorporate.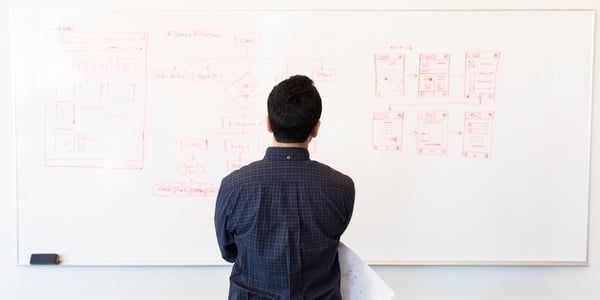 Challenges for Effective Sales Planning
Developing a Winning Strategy
Creating an effective strategy might seem like an obvious point to make but without one, your sales team is doomed to fail. Anaplan recommends that you build your strategy around the answers to these questions.
How are you going to market your product?
Which accounts will you target?
How will you assign your salespeople?
What incentives will you assign to your sales team?
How will you measure the performance of your strategy? Which KPIs will you track?
Executing Your Sales Strategy Effectively
Once the strategy is created, making it work is the next challenge! Do you have the right tools to enable collaboration? Ones that are flexible enough to adapt targets and territories as factors affecting these constantly change. For example, when demand fluctuates and sales teams need to adapt. This is a small investment in the right tools that will be worthwhile in the long run.
Aligning Sales with Business Strategy
Sales strategy needs to line up with the overall business plan and you need to have a clear view of revenue expectations for all products. This means that it's essential that go-to-market plans incentivise the sales teams to sell the right products in the quantities required.
Evaluate how you connect with the rest of the business. Are you able to collaborate effectively with accurate and commonly understood data, upon which to base discussions?
Everything is connected! If supply is interrupted, sales need to prepare your customers. Supply needs to foresee spikes in demand so they can take action. Finance needs accurate, real-time forecasts so that investors remain confident. Think about how quickly exceptions are triggered across departments, as this is key to overall performance.
You need to bring together and model the right data to help you assess and calculate the potential of individual accounts. You need to segment accounts for efficient selling, create territories that take into account capacity and fair quota across your sales teams and provide accurate forecasts for Finance. There is a good level of complexity in all these interlocking parts of your plan.
Sales Planning Best Practices
To improve your overall sales planning process, consider incorporating these best practices into your strategy.
Assess the impact of alternative plans
Use scenario planning to test the impact of your plans. For example, what if you add to the sales team and split territories? Take care to assess the impact on the current team and that the opportunity in each territory is demonstrably fair. Do you have the data to back up your plans? This is essential to gaining buy-in and harmony with your sales teams.
Collaboration is Key
At no point should this process be an individual project. For the best possible results, collaboration is vital. Not just from members of your team but also across the entire business.
For example, Marketing and Supply need to collaborate to ensure that you can meet new levels of demand from a sales promotion and take into account any internal constraints, so that customer satisfaction remains high. Including lots of different voices and perspectives will provide valuable insight and ensure the finished strategy addresses the challenges faced by everyone.
Understand the Behaviour of Your Sales Team
As part of the above collaboration, take the time to understand what your salespeople are doing on a daily basis and why they do it. Is a lot of their existing time taken up by awkward admin tasks when you'd rather they were focused on selling? Without this insight into the existing challenges faced by people in the role, you'll struggle to actually improve anything.
Collate and Use Valuable Data
You should already be collecting essential sales data that shows historic patterns and trends that can be applied to statistical analysis and predict future outcomes. It's also important to look at external data that can help to predict future demand, for example, weather forecasts or significant events - such as a sports event or a royal wedding.
If you aren't, or you don't have a structured process in place, then it's vital you address this. Data is critical for sales planning and will give you the insight needed to plan for alternative scenarios so that you can react quickly to changes in factors outside of your control. In the case of a sporting event, you need to plan for several scenarios to move stock around depending on a particular team's performance at each stage of a major tournament.
Whether a retail or services business you need the right historic data to assess the impact on your business. Did Britain's most popular museum, the British Museum, foresee a 22% decrease in visitor numbers during the 2012 Olympic Games?
Find and Keep the Best Talent
The best possible sales planning process would still be a failure without the right salespeople to implement it. Make sure your existing high-performing team members feel valued and respected.
You need a clear sales plan that is understood by the sales team, is supported by specific, measurable targets and compensation, that they believe they can deliver in fairly allocated sales territories. This is essential to maintain harmony, continuity and success of your salespeople.
Implementing an improved sales planning process like this can take time and effort but the results will speak for themselves. Approaching sales in this way can be part of a wider Connected Planning strategy that influences your organisation in a much broader way.
What is Connected Planning?
If you're not sure what Connected Planning refers to, then make sure to download our free guide that is packed with useful advice and information. It covers the pros and cons of Connected Planning and what your organisation would need if it wanted to get started.