In the current commercial environment, both tactical decisions and longer-term business strategies need to be quickly taken, well-informed, and preferably right first time. But unless the business has accurate and reliable information immediately available about the true cost and profitability of its products, channels, and customers, such decisions are made 'blind' following what is all too often a "fact-free discussion".
That's no way to manage a business. Business leaders need to know which customers, products, and channels contribute to profit, which incur losses, and how to improve the situation, always recognising that there are always going to be some parts of the business, such as marquee customers and low turnover products offered to provide customers with a one-stop-shop, that will never be profitable. Given the complexity of business today, it's not always obvious where to look to make the incremental commercial and operational changes that improve profitability. But there is one thing for sure; finance professionals will never add value unless they deliver the timely and easily accessible insights that enable their commercial colleagues to do it.
Timely, relevant, and actionable cost and profitability needs a robust foundation
All good structures need a robust foundation and cost and profitability reporting is no different. To add value, build models in which costs are assigned to products, customers and channels based on the scientific, cause and effect relationship that actually reflects real life.
With the exception of business-sustaining costs such as corporate image marketing and annual audit, most costs have a transactional cause with an associated quantifiable driver. For instance, the cost of a claim processing department in an insurance business is driven by the number of claims and can be assigned reliably to those policyholders that claim - albeit perhaps with some weighting to reflect the reality that certain types of claims are more complex and take longer to process. Some costs, such as sales promotions for a particular product or customer can be directly assigned, whilst others, such as advertising costs, the driver could be taken as either the net revenue or the incremental net revenue by product, customer, and channel. Just because it is not obvious which driver to use in such instances, doesn't make it wrong. It is always far better to make an estimate using the most appropriate driver that underpins the cause of the costs, than use the wrong one which just muddies the waters.
The imperative is to minimise the amount of 'peanut buttering' and build models where as much of the costs as possible are assigned based on their actual cause and effect relationship, because until you understand how profit is "caused" you cannot set about making more. Once this is done, there are solid foundations in place for building the pillars of accurate and actionable cost and profitability reporting as represented in the diagram below: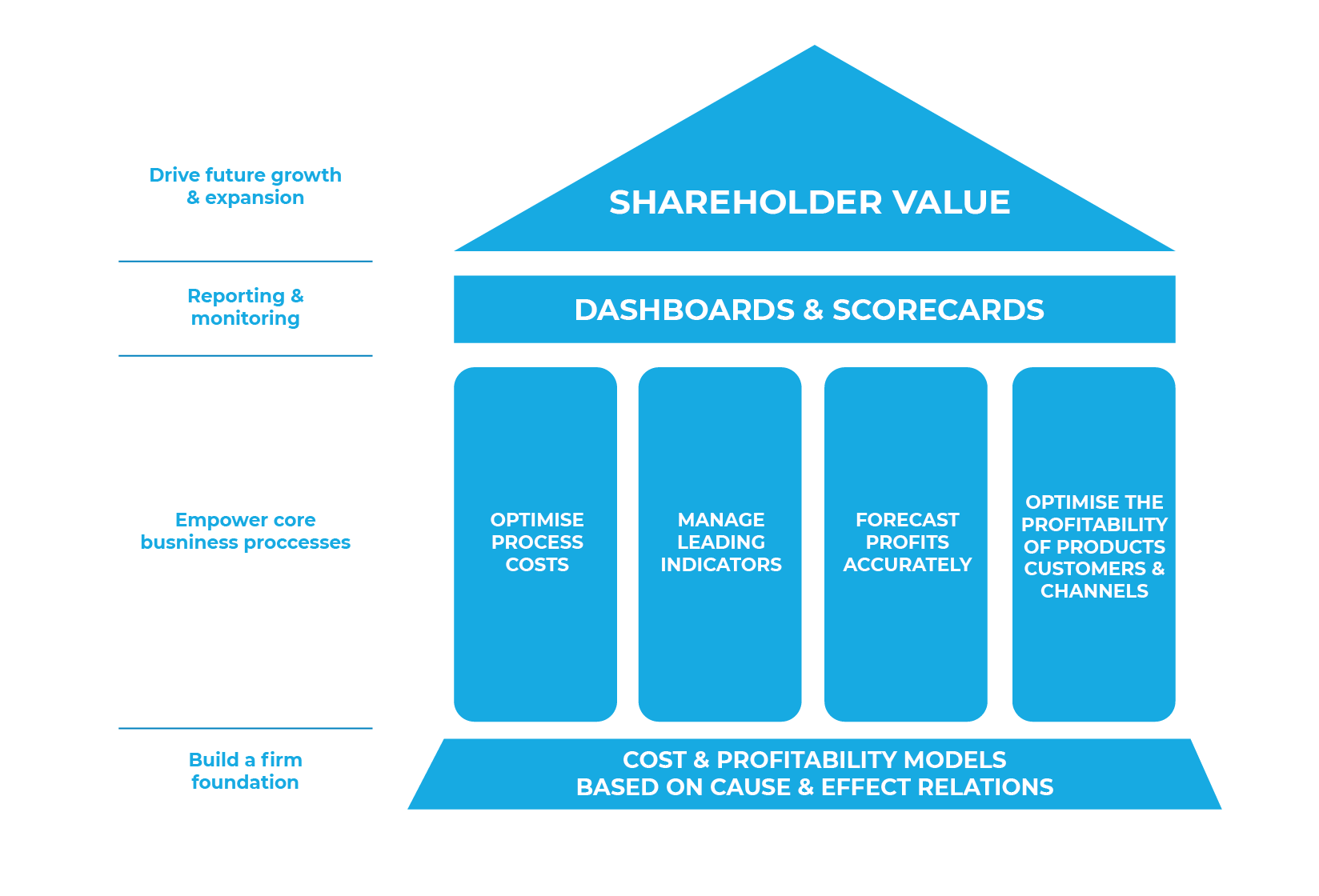 Pillar 1: Optimise process costs
Although most businesses can list their core processes, few measure their costs and even less identify laborious and time-consuming activities, such as processing customer returns and issuing refunds. Such activities add no value, so routinely monitoring them and creating projects to eliminate, minimise or streamline them, typically results in a step-change in the amount of resource consumed, and cost savings that directly impact the bottom line.
Pillar 2: Report and manage "lead" indicators
Rather than measuring and reporting on a gamut of key performance indicators, (KPI's), such as customer satisfaction, that only have an implied relationship with financial results, using cause and effect relationships to model costs and profitability gives a set of indicators that can be the basis of a focused and action-orientated set of KPI's.
For instance, the process "fulfil customer demand" consists of activities such as input order, pick, pack, load, deliver, etc. Each activity has a volume that may be used as a driver to allocate costs to product/customer/channel, a resource consumption rate that measures the productivity of resources involved, and ultimately a calculated cost per unit of driver. This level of complexity may not be necessary, however. There may be no point in managing "lag" indicators as by definition they are not the cause. Typically the volume that drives the process is the number of sales orders and order lines (SO/SOL) and this is the "lead" indicator. SO/SOL start the process running and whilst individual activities may have different drivers, in most businesses they are broadly proportionate to #SO/SOL, so the whole process can be allocated to product/customer/channel using the lead driver, #SO/SOL. Doing this brings considerable benefits. Allocations are easier for less technical users to comprehend, there is far less data to collect and collate, reducing the time and costs involved in maintaining the model, and the KPI of Process cost/SOL is easy to calculate and interpret across multiple forecast/scenario versions.
Using this principle allows the business to be managed using the "lead" indicators, (in this case the volume of sales orders and the total cost per order), that can be drilled into to identify the causes of trends and variances that need management action. Adopting such an approach to selecting performance indicators ensures only those that really help the business to improve profits are included in dashboards and scorecards.
Pillar 3: Forecast profitability
Businesses that can explore the various scenarios that the future may hold, and are able to make well-informed and incisive decisions quicker than their peers, are typically the most successful. So having a robust cost model built on cause-and-effect relationships is a distinct advantage, as it can also be used to predict future profitability, together with insight into what actions are crucial to its delivery.
For example, running an airline is a notoriously complex business with lots of input volumes to forecast and juggle, such as passenger numbers, flights, aircraft types, meals, and kilometers flown. But any airline that already calculates the unit costs of its core business processes (ticketing, check-in, despatch, baggage handling, etc.) using cause and effect relationships, can simply input anticipated volumes into the same model, extrapolate unit costs based on their knowledge of any expected changes in input costs, and it has a model for scenario planning and forecasting future profitability. Using the model, they can make tactical decisions about the best type of aircraft to use on each route or round trip. The most agile operators make operational decisions to add capacity or modify their schedule by adding, cancelling, or merging flights at relatively short notice, based on their predicted profitability. The same model provides the basis for longer-term scenario planning, by helping to provide insight into strategic decisions about which types of aircraft to acquire or decommission, and how best to develop their network and schedule.
Pillar 4: Optimise the profitability of products, customers, and channels
Most companies measure the gross margin of their customers, products, and channels, but very few understand their true bottom-line profitability. This practice has prevailed for decades, mainly because the enterprise resource planning (ERP) systems used for managing the business only support the direct apportionment of costs to products and customers, and not the more complex cause and effect assignments that would require complex coding. This is virtually impossible in a system designed for transaction processing.
Managing a business using gross margin, or worse still gross revenue can result in behaviours that destroy rather than create profits, such as focusing sales efforts on customers with high gross margins. Typically once the indirect costs that appear below the gross margin are allocated to customers and products using the cause and effect relationship, (such as allocating sales force costs according to how much time is spent with each account), transforms the business's view of where profit is really created and provides the detailed insight needed for driving improvements.
It sounds simple, doesn't it? It's just attributing all the costs that a product, customer, or channel creates using a bit more science to provide an analysis of 'true' profitability. Even in the 21st century many companies still lack this fundamental building block. One could be forgiven for being amazed companies don't already have this management information.
Putting on the roof!
Topping the four pillars of our schematic with dashboards and scorecards for reporting and monitoring enables the business to drive shareholder value by improving the profitability of its current business, and exploring scenarios about what the future may hold. Build the structure and transform your enterprise performance capabilities. But note, the structure needs to be built from the bottom up, starting from the solid foundation of costing methodology based on cause and effect relationships, otherwise it's an edifice built on sand.
But how do I get there?