In today's fast-paced business world, every successful organisation needs to be able to adapt to change. In the supply chain industry, this is even more vital as the conditions and requirements are regularly changing at a rapid rate. So, to be successful, you need to be adaptable and that's where the importance of the change management concept comes in.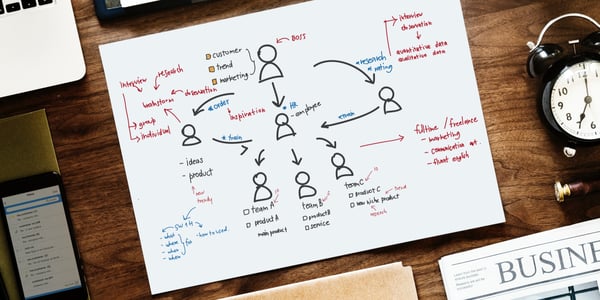 Why You Need to Put a Focus on Change Management
The change management process is one that helps any transitions inside your organisation. It allows employees to understand, commit to, accept and embrace changes in the business environment. Change is happening every day as new initiatives and projects are launched to improve performance and increase profits.
Change management drives adoption and usage so initiatives deliver expected results within a set time frame. As the pace of change is faster than ever, organisations find themselves in a constant cycle of change.
The Importance of Change Management
Other than change management helping organisations like yours save time and money, there are many other vital reasons as to why this concept is so valuable.
Ease the Tension and Create Smooth Processes
Fact - change can occur in numerous ways at any time in any business. It can be a strategic change, in leadership, through technology and more. This has resulted in companies now seeing change management play an important role in the implementation of new technology.
There's currently a fear that as technology advances, it'll take over the workplace. This alone is enough to cause resistance to change in organisations that are looking to implement new technology. By helping employees within your organisation better understand the change, the purpose of it, the benefits it will bring and how risks are mitigated, your organisation can become more open-minded.
For example, while Cisco were transforming their finance department from a number-crunching machine into a strategic business partner, they published a Q&A in the Wall Street Journal on the project. People involved in the effort shared the piece around, and took greater pride in the work - and some people they hadn't been able to reach by other methods finally understood what they were trying to do.
When everybody is aligned and open to change, change management can help ease the initial tension to create a much smoother process - from the planning stage right through to implementation.
Save Time and Resources
Change management is a formal way to communicate with every employee. It tells them why change is happening, what it'll look like for them, how it benefits everyone involved at the end and much more.
Keeping employees informed right from the beginning helps smooth the transition and shortens the time it takes to adapt. So, if you explain the benefits early on, employees will be more open to the change. They'll be more engaged and invested in the long-term vision, so the transition can happen quickly, with much less time and resources consumed by the change process.
Create an Innovative and Adaptable Workplace
By communicating the plans for the change, such as the benefits and explaining why it's happening, you're opening a brand new line of communication which sets a standard. Over time, this increases the trust employees have in the business and the decisions which the management team are making.
People understandably fear the unknown and being in the dark. It is unsettling not knowing why changes are being made, what the changes are and what the long-term impact will be. Having a change management strategy and communicating it can eliminate this and help people to adapt and embrace innovation.
Another way that change management creates this type of workplace is when companies implement new technology. In this scenario, they tend to face the challenge in user adoption. A lot of our work at Profit& is implementing technology that removes the need for common tools like Ms Excel from processes.
There's no denying that people love Excel and often find it really difficult to switch to a new tool. This is where involving people early on can really help in the change process as it makes them feel like they're valued, they're a part of the process and have an influence over the final result. This is the most effective way of getting buy-in.
What we see so often is that a lack of training can be a cause of poor technology adoption. Training and support for users is essential to achieve expected return on investment in new technology. If end users aren't using it properly, then you're unlikely to achieve maximum returns.
Thrive in an Ever-Changing World
The days of having one large change every three years, for example, are finally in the past. Now, organisations are facing changes that are faster, more complex, more interdependent and more cross-functional than ever before. Being able to deliver results on multiple changes allows you to achieve your strategic vision and thrive in today's changing landscape.
So, by applying change management in your organisation, you can deliver results for every single change you implement. By doing this, you can build competencies that will grow the business' capacity to tackle even more changes at any given time.
Close the Gap Between Requirements and Results
It's common to see organisational changes meet requirements without delivering the relevant, key results. That's because they deliver the necessary outputs without providing expected outcomes and the focus of the change is always on the solution - rather than the benefits of the solution.
Evidently, there's a gap that exists between the requirements and the results. The people who can bring the change to life on a daily basis are the only ones that can solve this. Change management allows you to close off this gap. By supporting the people directly impacted by a change, they can be successful in bringing it to life in how they work.
Reduce Stress and Anxiety
It's simple - not embracing change will lead to increased project timelines and the budget. This can have an adverse impact on employee morale. Addressing change early within a project and maintaining consistency will help reduce stress and anxiety, whilst encouraging more people to be involved in change projects. Instead, it'll help to create a more adaptable and engaged workplace.
Provides Employees With Support
Change is difficult to make. You need to proactively support and guide people through all stages of the change. Without effective change management, you're leaving employee engagement to chance!
Change management removes this chance by providing employees with the preparation, support and relevant skills they'll need to succeed in change.
Change Management is critical in order for your business to succeed too. You need to stay innovative and anticipate the future so that you can capitalise on opportunities as they emerge. This is likely to result in a constant cycle of change.
For that, you need the relevant tools to make decisions in real-time, such as Connected Planning. When you have your internal teams aligned and you can see around corners, you can stay ahead of change and finally make better-informed decisions. This is what will allow you to deliver successful change management at scale.
SUCCESSFULLY DELIVER CHANGE MANAGEMENT WITH YOUR ALL-IN-ONE GUIDE TO CONNECTED PLANNING
To help you get started with this process, we've created an all-in-one guide which features the essential information you need to implement Connected Planning successfully. We've removed the complexity and highlighted the benefits, its purpose, the tools you need and so much more.
Get your free copy using the link below.